Philippines vows to protect 'every single inch' of its territory after Chinese bomber drills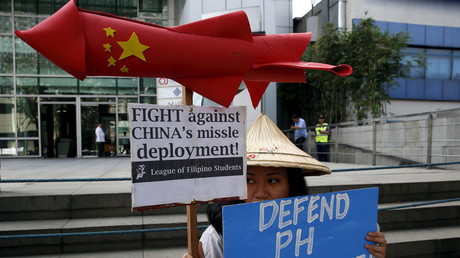 Manila has vowed to protect "every single inch" of its territory in the South China Sea and expressed serious concerns over the presence of Chinese strategic bombers that earlier carried out drills in the disputed region.
"We reiterate our commitment to protect every single inch of our territory and areas which we have sovereign rights over," the Foreign Ministry said in a statement on Monday, noting that Manila is taking "appropriate diplomatic action necessary to protect" its claims.
A spokesman for President Rodrigo Duterte said that the state expresses serious concerns over the Chinese bombers' presence in the South China Sea. "We take note of the reports that appeared and we express our serious concerns anew on its impact to efforts to maintain peace and stability in the region," Harry Roque told a media briefing on Monday.
Chinese Xian H-6 strategic bombers, developed on the basis of Soviet Tupolev Tu-16 aircraft, took part in the military exercise which involved landing, take-off and target-strike training, China's air force said last week. 
Think your friends would be interested? Share this story!

Apsny News English